As well as writing questions for quiz leagues &tc., the Wise Old Owls have worked with TV & Radio and stand ready to do so again. If you are a TV or Radio producer you might like to know we have in the past put researchers in touch with individuals & teams prepared to appear in quiz shows, thus obviating the need for extensive auditions.

The Wise Old Owls have some ideas for an original game-show format which they believe would be exciting & entertaining. We'd be keen to discuss them with an established production company interested in taking them forward. If that's you, then please contact us.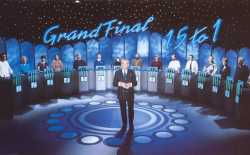 On a lighter note, Chris Jones of the Wise Old Owls has himself appeared on televised quiz contests three times. The first occasion was on Channel 4's celebrated "15 to 1". More recently Chris made two (winning) appearances on a "live" quiz that was broadcast as part of Yorkshire Television's Friday night show "The Local" .